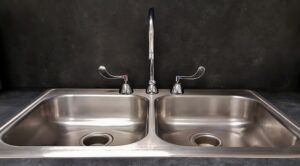 The multifamily market is incredibly competitive, so it's essential to do everything you can to set your property apart. This means making key upgrades that enhance apartments to make them more desirable to rent. This can increase occupancy rates and rental income. Upgrading kitchen sinks to newer models is a great way to improve your property, and your multifamily plumbing contractor in Houston can help.
Are you a property manager looking to upgrade the kitchen sinks in your apartment units? If so, Power Plumbing is here to help! We specialize in multifamily plumbing installation, repairs, and maintenance, and can help you get the job done quickly and efficiently. Contact us today to get started.
Why Have Your Houston Multifamily Plumbing Contractor Replace Sinks In Your Property?
As a multifamily plumbing contractor, we firmly believe that upgrading the kitchen sinks in apartments is an important step to ensure the sustainability and upkeep of multifamily properties. Doing so can provide tenants with more efficient sinks, which would help save water, energy costs, and maintenance fees. Additionally, upgrading kitchen sinks in apartments seriously improves the look of the space. The sink is the hero of any kitchen, so it needs to be not only functional, but attractive. Keeping up with trends also provides an opportunity for multifamily owners to set their property apart from major competitors and attract more tenants for occupancy.
Benefits of Sink Upgrades in Apartments
With the help of a commercial plumber, it is a simple and relatively inexpensive task to upgrade to a newer model sink in apartments. Newer models come with extra features that add convenience. For instance, many withstand scratches and stains better than older models. In addition, upgrading the sink in an apartment can make the overall space look more attractive and inviting to potential tenants. These upgrades can help landlords maintain their rental income by creating a more desirable space for future renters. Ultimately, the benefits of upgrading to a new model sink in apartments are numerous and should definitely be considered for any commercial space. Just talk to your multifamily plumbing contractor about your options.
Types of Kitchen Sinks to Consider for Multifamily Units
When considering kitchen sinks for multifamily units, affordability and durability are important factors. Stainless steel is an ideal choice as it provides a sleek look, won't rust or corrode, and resists scratches. Copper models may also provide a stylish element to the space and are easy to clean, but cost more than stainless steel. More traditional materials such as cast iron are heavy-duty and rust-resistant, but often require more upkeep and extra steps to ensure the cabinets can stand the extra weight. Newer composites made of resins offer resistance to damage and come in many color options. They also tend to be a little less expensive, but keep in mind they also don't last as long as some of these other options. There's a style, size, and material of sink available to suit any budget, so you can choose what makes sense for your multifamily unit.
How to Upgrade Kitchen Sinks in a Multifamily Property
Upgrading the sinks at multifamily properties can be a daunting task. Fortunately, the key to success is finding a multifamily plumbing contractor that can handle the job. A multifamily plumbing contractor will have the right experience and skillset to make sure that any upgrading process goes smoothly. They will assess all necessary steps needed in order to properly upgrade these sinks. These specialists are equipped with the right tools in order to successfully install new ones. They can help you source the correct sinks at competitive prices and perform the work on a schedule that works best for you and your tenants. Make sure you contact a multifamily plumbing contractor for all your sink upgrade needs so that no stone is left unturned!
Power Plumbing – Your Multifamily Plumbing Contractor for Over 35 Years
Replacing an old kitchen sink with a new, updated model offers many benefits for both apartment complexes and the people who live there. Upgrading to newer models can save money on repairs and increase the resale value of the property. It also makes life more convenient for residents. When considering which type of sink to install, make sure you choose the right commercial plumbing company in Houston to perform the work. Power Plumbing is experienced in installing, repairing, and maintaining all types of plumbing fixtures in multifamily properties. Contact us today to schedule service.