Our top plumbers in Houston are here to help you keep your commercial water heaters in good condition for reliability and efficiency. Trust our team for all your commercial water heater maintenance and service needs to keep your tenants happy.
We work with properties throughout Greater Houston to ensure they receive the Houston plumbing services they need to repair and maintain their commercial water heaters. With over three decades in the business and a reputation for excellence, our plumbing team is standing by to assist with your commercial water heater needs.
We service all commercial water heater types and models, including:
Conventional (tank) water heaters
Tankless water heaters
Gas water heaters
Electric water heaters
Whether you have individualized water heaters for every unit in your multi-family building or have a centralized system to provide hot water throughout your commercial building, we have the experience and knowledge to provide comprehensive commercial water heater maintenance services.
Contact us now to get a quote for our commercial plumbing services.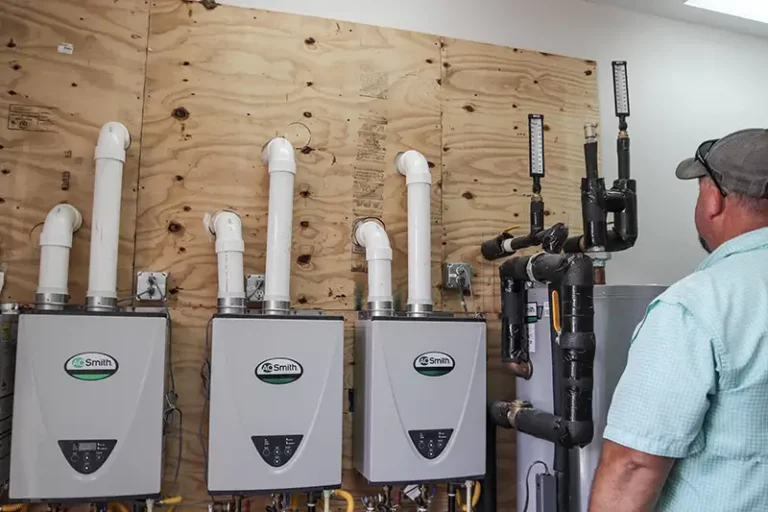 Commercial Water Heater Repairs & Replacement
We are available 24/7 to provide
emergency repairs
and replacement for malfunctioning commercial water heaters. If your tenants are complaining about cold showers or other signs of water heater issues, call our experts at Power Plumbing for immediate response and high-quality commercial water heater repairs. Some signs you may need repair for your commercial water heaters include:
Leaks
Rusty or discolored water
Lack of hot water
Insufficient hot water
Noisy water heaters
Issues with commercial water heaters can lead to dissatisfaction and complaints for your property. Instead, work with our team to ensure you receive quick response for commercial water heater repair. In some cases, your commercial water heaters may be near the end of their expected lifespan, requiring replacement instead of repairs. We work with you to find the right commercial hot water heater for your needs. Our team is here to help you find practical,
efficient water heater
solutions for your commercial or multi-family property.
Commercial Hot Water Heater Maintenance
Our plumbing specialists are here to help you extend the life of your commercial water heaters to reduce costs and headaches for your property through ongoing maintenance. We work with you to create custom maintenance plans to address each part of your plumbing system, including commercial water heaters. There are many services you need to ensure reliable, safe commercial water heaters in your property. Some maintenance services we may recommend include:
TPR valve testing
Visual inspections
Water heater flushing
Anode rod replacement
Predicted parts replacement
Regular water heater maintenance from our Houston commercial plumbing company can help prevent unnecessary repairs and premature replacements for your property. Our team works directly with property managers and owners to ensure you receive the plumbing services you need for your building. Get quality, cost-effective commercial water heater maintenance solutions today.
Contact us
to schedule service.