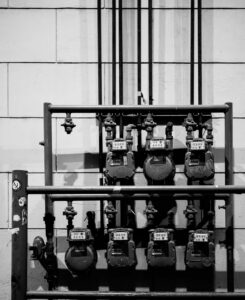 If you are a commercial property owner, it is important to be aware of the various Houston plumbing services available for gas pipes in commercial buildings. Gas leakages can pose a serious safety hazard, so it is crucial to have a reliable plumbing system in place. A professional commercial plumber will be able to assess your needs and recommend the best course of action for your business. In addition, they can provide regular maintenance and repair services to keep your gas pipes in good condition.
Contact our team today to learn more about commercial plumbing services for gas pipe systems and to schedule service.
Regular Houston Plumbing Services Prevent Dangerous Gas Leaks
Gas leaks can pose a serious risk to anyone in the property, as well as surrounding buildings. For instance, gas leaks can cause health problems, explosions, and even death. It is important to schedule regular plumbing services to ensure that all your gas pipes are secure and there are no potential risks of poisoning or explosions. A Houston commercial plumbing contractor is equipped with the skills and knowledge to inspect each pipe thoroughly, making sure any issues are spotted before they become a problem. Don't take risks when it comes to your plumbing – make sure you get regular commercial plumbing services for your gas lines.
Leave the Building and Call Your Houston Commercial Plumber Immediately if You Smell Gas
If you smell gas in a commercial building, leave the premises as soon as possible. Remaining inside the building and breathing in gas fumes can be dangerous, so evacuate and then contact a professional Houston commercial plumber right away. A commercial plumber will be able to assess the situation, inspect any gas appliances, assess for leaks, and provide the necessary repair or replacement plumbing services. Make sure to remain at least 25 feet away from the building until a commercial plumber has had a chance to look at the structure and declare it safe for entry.
Get Professional Houston Plumbing Services ASAP for a Gas Leak
If you're experiencing a gas leak, it is best to get Houston plumbing services right away. Don't be tempted to let your maintenance crew or handyman fix it. This can be highly dangerous. Gas leaks can be incredibly hazardous, and you need sophisticated equipment for proper assessment. Therefore, choose a licensed commercial plumber to make the repairs. Doing the job yourself could lead to further damage or even injury, so play it safe and call a commercial plumber immediately.
Your Plumber Can Offer Immediate Houston Plumbing Services to Repair or Replace a Gas Line
When it comes to commercial plumbing repairs and replacements, a professional commercial plumbing contractor is the way to go. They will have the proper experience and knowledge to assess any potential damage or hazard that may exist in your commercial building's gas pipes. Not only will they be able to repair any existing damage, but they can also replace entire damaged sections of pipe if needed. With their help, you can ensure that your commercial building is safe and sound while saving both time and money.
Regular Maintenance Prevents Gas Line Troubles
Regular plumbing maintenance is essential for properties with gas pipes. Gas line pressure testing and inspections should be done on a regular basis to detect current and potential plumbing issues. Doing so can prevent disasters that could be costly and time consuming to repair. In addition, Houston plumbing services can also make sure that your commercial building's plumbing system is up to code for safety and compliance. Inspection and testing of gas lines as well as water lines in the property help prevent unplanned issues down the road. Make sure you stay on top of regular plumbing maintenance – it pays off!
Choose an Experienced Houston Commercial Plumbing Contractor for Your Property
When it comes to finding top-notch commercial Houston plumbing services, make sure that you pick a team that is experienced, professional and reputable. Doing so will ensure that the job gets done right the first time around! Professional plumbers should possess the skills, experience and expertise to deal with all kinds of problems. They should be able to respond quickly and offer cost-effective solutions. If you are looking for an in-depth review of your pipes or system installation, be sure to research reviews and ratings, and look for highly rated services by trusted sources. Don't forget to compare prices – getting a good deal doesn't mean choosing the cheapest option available. Investing in a good quality commercial plumbing service will save you from potential future headaches – always go with the professionals!
Take Care of Gas Lines & Commercial Plumbing Systems with Power Plumbing
Gas leaks are nothing to mess around with – they can be very dangerous. That's why it's so important to have a professional plumber inspect your gas pipes on a regular basis, and to call a professional immediately if you smell gas. If you have a gas leak, don't try to fix it yourself – this is a job for an expert. A professional plumber will be able to repair or replace any damaged gas pipes. Regular maintenance like inspections and pressure testing of your gas pipes will help prevent future problems. When it comes to commercial plumbing, be sure to choose a reputable and experienced service like Power Plumbing. We offer decades in the business and a reputation for top quality services throughout Texas. Contact us now to schedule service with our expert plumbers.