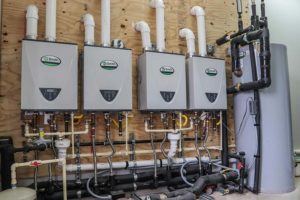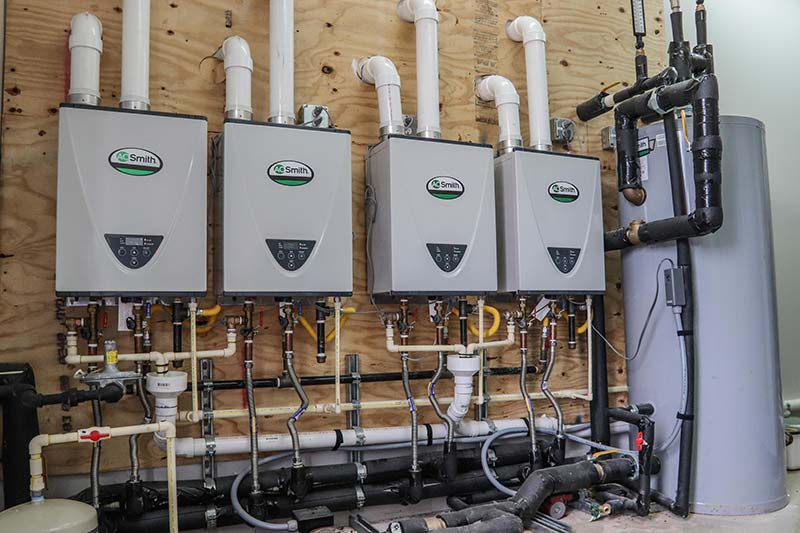 Your Houston commercial plumber assists with a variety of plumbing equipment and appliances. One common appliance that may need service from your plumber is a commercial water heater. Practically every commercial building needs a water heater for health and sanitation purposes. Having hot water available is critical for things like cleaning and handwashing in your building, no matter whether you run an office, a store, or a school. Let's talk about commercial water heater services and why you might need them.
Why Call Your Houston Commercial Plumber Instead of a Maintenance Technician?
One thing many property and facility managers ask is why they should call a Houston commercial plumber instead of their maintenance technician. Maintenance techs are godsends for any property and they can wear many different hats. They're the ones you call when you need the sidewalk power washed and when you need to change out a burnt out light bulb. They're amazing. That being said, they likely don't have the experience necessary to provide Houston plumbing services. 
Plumbing systems are incredibly complex, especially commercial ones. They can be difficult to work with if you don't have the right knowledge and experience. In fact, Texas laws generally require all plumbing work to be performed by a licensed, qualified plumber. So, it's usually better to call your Houston commercial plumbing for anything that involves plumbing systems, fixtures, or appliances. This includes your commercial water heaters. 
Water heaters can be especially important to have serviced by a professional because there are so many types, and so many ways they can break. At your property, you might have a conventional water heater (with a tank) or a tankless water heater. They can also be powered by either electricity or gas. With so many variations, it's important to choose a professional that works with them every day, rather than a maintenance tech who is a jack of all trades and likely hasn't worked with all sorts of commercial water heaters and problems. 
Creating a Commercial Water Heater Maintenance Plan with Your Houston Commercial Plumber
There are several services you  might need from your Houston commercial plumber for your building's water heaters. One important type of commercial water heater service is maintenance. Preventative maintenance is a great way to prevent issues for your water heater now and in the future. Each water heater and building is different, so you should work with your trusted commercial plumber to design a customized maintenance plan for it (as well as the rest of your plumbing). 
Maintenance Improves Performance, Longevity, and Efficiency
Preventative maintenance for your commercial water heaters helps in many ways. A well-designed maintenance program can actually improve performance, longevity, and efficiency for your water heaters. With regular maintenance, your water heater can function better, improving output and also reducing costs to operate it. Additionally, it can extend the service life of your water heater to reduce the cost and hassle of frequent replacements and repairs. As such, the costs and time spent on water heater maintenance from your Houston commercial plumber are often a great investment that helps your bottom line in the long-run.
Keep in mind that most buildings need commercial water heater maintenance every six months, but you might need maintenance at longer or shorter intervals based on usage and other factors.
Houston Plumbing Services for Maintaining Commercial Water Heaters
There are several maintenance services that you might need for your commercial water heaters. As we mentioned, you should work with one of our plumbers to create a comprehensive maintenance plan. However, here are some of the maintenance services you may need:
Inspections:

Visual inspections of the water heater and its various components is a great way to identify faulty or worn parts before they become a major problem. It also allows your Houston commercial plumber to look for less-known signs that you need repairs. Inspections should also include looking at the wiring or gas piping for any signs of damage or wear and tear.
Tests:

There are many potential tests your plumber may recommend for your commercial water heaters. One that most plumbers will do at least annually is checking the temperature pressure valve, which is an important safety device for conventional water heaters that prevent dangerous pressure buildup in the tank. 
Flushing/Descaling:

Since we have pretty hard water here in Texas, flushing or descaling your commercial water heater is important. Mineral buildup can do a number on the components in your water heater, whether conventional or tankless. Flushing conventional water heaters helps remove the minerals and sediment from the tank. Descaling involves running a descaling solution through a tankless water heater to flush out the scale from the water heater. 
Planned Parts Replacements:

There are also times where the water heater probably needs part replacement for maintenance. Often, parts will go bad before the water heater does, but your plumber can help you determine when the right time to replace them is. For instance, conventional water heaters usually have an anode rod that needs replacement every five years or so. 
Signs You Need Water Heater Repairs from Your Houston Commercial Plumber
While maintenance certainly helps, there may be times where you need to call your Houston commercial plumber for water heater repairs. Here are some common signs you might need commercial water heater repair:
Little or no hot water in your building

Discolored water in your building

Odors in your building's water

Odd noises like banging from the water heater

Low water pressure for only hot water taps

Leaks from your commercial water heater
There are many potential issues that may lead to these water heater problems. It's best to call your Houston commercial plumber to help diagnose and repair the issue.
When to Replace Commercial Water Heaters 
In some cases, it may be better to replace your commercial water heater rather than repair it. Your Houston commercial plumber can help you determine when that is. For instance, if the water heater is near the end of its expected service life, this is usually when it's better to replace instead of repair the commercial water heater. Also, if you need frequent repairs, then it may be time for a newer unit. 
Your Houston Commercial Plumber Can Help You Source and Install a New Water Heater for Your Building
If you need a new commercial water heater for your building, then your Texas commercial plumbing company is here to help. We can help you determine the right size and options for your building as well as help you choose the right unit for your needs. We also can help install the new water heater quickly and efficiently.
Get Help from Our Top Texas Commercial Plumbing Company – Power Plumbing
When you need commercial plumbing services, our team at Power Plumbing is your go-to choice. We provide a wide range of plumbing services for commercial buildings, including plumbing design build, maintenance, and repair. Trust our over three decades in the business to provide quality plumbing services at cost-effective prices. Get in touch today to get a quote and schedule service.