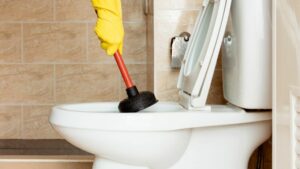 Are clogged toilets causing issues on your commercial property? Then you need a Houston plumbing service to address the root of the problem. Whether your commercial property is a restaurant dealing with significant clientele or an office building that needs to stay operational throughout any plumbing issue, you can trust our team of professional plumbing experts at Power Plumbing. We know how critical it is for these systems to work properly. We are here to provide efficient, reliable commercial plumbing services when you need them most. Keep reading to find out more about our specialized services for resolving clogged commercial toilets.
If you need plumbing services for your commercial property, contact us now for assistance.
Common Causes of Clogged Commercial Toilets
Clogged toilets are one of the most common issues encountered by commercial plumbers, and there are many possible reasons for blockages to occur. Most clogs happen because of trying to flush too much at once, like a significant amount of toilet paper. Other times, it may be that people are flushing unflushable objects down the toilet, like feminine hygiene products or paper towels. However, keep in mind that bigger issues with drain lines can also cause clogged toilets. For instance, if the drains are blocked, you may notice several clogged toilets at once. To prevent these issues from occurring and keep commercial facilities running smoothly, regular maintenance plumbing services can help prevent these issues.
Commercial Houston Plumbing Service for Difficult Toilet Clogs
While you might have a maintenance professional try to clear a toilet clog with a plunger, there are many cases where this may not work. Instead, you may need professional commercial plumbing services for the issue. For instance, for difficult clogs, commercial plumbers may use an auger, also known as a "plumber's snake." These use mechanical means to break up and clear toilet clogs. The snake is placed into the plumbing line and the plumber turns a crank or handle while sending the flexible coiled cable further down the pipe. This technique applies pressure to the line and clears out clogs caused by large blockages. In more severe cases, your commercial plumbing company in Houston may recommend hydro jetting your drain lines. This forces pressurized water through the lines to dislodge hardened debris that can cause blockages. Both techniques require exceptional knowledge and experience on behalf of the commercial plumber. Their experience ensures the successful clearing of clogs without damaging any of the pipes or toilets.
Preventing Commercial Toilet Clogs
Taking proactive steps to avoid plumbing issues in your business' restroom is essential for a successful and healthy operation. Using plumbing services can help you identify areas of concern. It can also help detect potential plumbing problems before a breakdown occurs. Ensure you have plumbing professionals inspect, diagnose, fix, or replace plumbing components as needed. This maintains quality water flow and dependable plumbing so that your staff, customers and visitors experience no disruption or discomfort. Regular maintenance also allows for greater cost savings over the long-term by preventing the need for extensive repairs that would be more costly than regular checkups. Investing in maintenance plumbing services will pay off in terms of uninterrupted operations at your business' restroom facilities.
When to Call a Commercial Plumbing Company for Clogged Toilets
If you own or manage a commercial facility in Houston, it's wise to have the contact information of a professional commercial plumbing company like Power Plumbing handy to ensure your building stays up to date on all its plumbing needs. A quality commercial plumbing company in Houston can help unclog toilets quickly, efficiently and cost-effectively so that commercial facilities remain functioning properly. Any time a clog persists despite using a plunger, it's best to contact your trusted plumber for help.
Trust Power Plumbing for Your Houston Plumbing Service Needs
We hope this blog post has provided useful information in understanding the causes of clogged commercial toilets and how to handle them. Clogged toilets can become a major disruption to your business if they're not treated quickly. The best way to avoid expensive repairs is to contact a professional commercial plumber who can quickly assess the problem and clear any necessary clogs. Power Plumbing is the ideal choice for this type of work, as we offer fast, reliable service at an affordable price. Our experienced team is available 24/7 to handle anything from minor repairs to major toilet replacement projects. So if you're experiencing any plumbing issues with your restroom, don't hesitate to contact us.