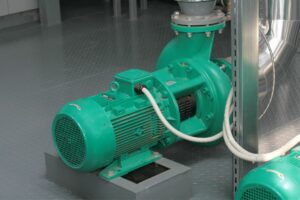 If you manage a commercial building in Houston, you know that plumbing is a crucial part of keeping your business up and running. Power Plumbing is here to help with all your commercial plumbing needs, including booster pump maintenance. Booster pumps are an important part of many commercial plumbing systems, and it's important to keep them well-maintained to avoid costly repairs or even system failures. An experienced Houston commercial plumber from our team can handle all your booster pump maintenance needs. Contact us today to schedule service!
Why do you need a booster pump?
Houston businesses can increase water pressure by investing in a booster pump. These pumps come in handy when the normal water pressure is too low to meet the demands of businesses. They provide a needed power boost that allows plumbing systems to function optimally. A booster pump uses centrifugal force to take water coming from the municipal line and increase pressure. This way, you get proper water pressure at all plumbing fixtures throughout your building, including on top floors of high rise buildings.
Houston commercial plumbers like our team at Power Plumbing can install these pumps so businesses don't suffer from low water pressure. Booster pump installation requires professional Houston commercial plumbers to ensure the installation is done correctly. Since these pumps attach to your entire plumbing system for the building, it's critical to choose the right team for help. Otherwise, you may notice problems with installation, leaks, or even improper booster pump capacity.
How often should you have your booster pump serviced by a Houston commercial plumber?
Booster pumps need regular Houston plumbing services for maintenance. To be sure your booster pump is functioning optimally and increasing water pressure as designed, it's important to have your booster pump serviced regularly by a professional Houston commercial plumber. Most people suggest having their booster pump serviced every year at minimum. Of course, this timeline can be affected by many variables such as your mineral content in your building's water, manufacturer recommendations, and other environmental factors that could affect the performance of the system. In these cases, you may need more frequent service than annual booster pump maintenance. Our team can help you determine the correct maintenance intervals based on these factors.
What are the signs that your booster pump needs Houston plumbing service?
If you notice a decrease in water pressure, it may be time to service your booster pump. Other signs include higher than normal levels of noise coming from the unit when it is running, or leaks around the pump itself. You might also see increased energy bills if the motor isn't operating efficiently. Sometimes, you may notice higher water usage at the property due to leaks or booster pump malfunctions.
If any of these signs present themselves, check the manufacturer's guidelines for servicing and make an appointment with a professional technician as soon as possible. A Houston commercial plumber can diagnose and repair any issues. Taking care of your booster pump now can help ensure its longevity, reliability, and prevent more costly repairs down the road.
Types of services booster pumps need from a Houston commercial plumber
Commercial booster pump maintenance is an important service that Houston commercial plumbers specialize in. Booster pumps help to move water more efficiently, making them ideal for use in businesses ranging from small restaurants to large office buildings. To ensure their proper functioning, these pumps need regular plumbing service.
During a typical maintenance call, Houston commercial plumbers will inspect the pump systems and their connections to the plumbing system. These inspections are to check for signs of wear and tear. Your plumber may also check water pressure levels throughout the building to ensure the booster pumps are working properly. If needed, they will also clean any filters and lubricate any components that need it per the manufacturer recommendations. If any issues arise during the inspection, Houston commercial plumbers can often provide easy repairs on-site, giving businesses peace of mind that their booster pumps are running safely and effectively.
How can Power Plumbing help you with your booster pump maintenance needs?
Houston building owners and managers can take comfort in knowing that Power Plumbing is a Houston commercial plumbing company, specializing in booster pump maintenance. Our experienced technicians offer prompt and professional service when it comes to keeping your Houston property running smoothly. We understand the importance of keeping your booster pumps functioning effectively, which makes us the perfect partner for you and your Houston business's plumbing needs! With our fast response times, reliable service, and years of experience, no other Houston commercial plumbing company can match Power Plumbing when it comes to booster pump maintenance.
Our team at Power Plumbing offers nearly four decades in business and is proud to be a top commercial plumbing contractor in Texas. We operate throughout Houston, Dallas, Austin, and San Antonio to provide commercial building managers and owners with the comprehensive plumbing services they need for reliable operations. Trust Power Plumbing as your go-to commercial plumbing service. Make us your first choice for all commercial plumbing needs today – get in touch to schedule service with our experts.